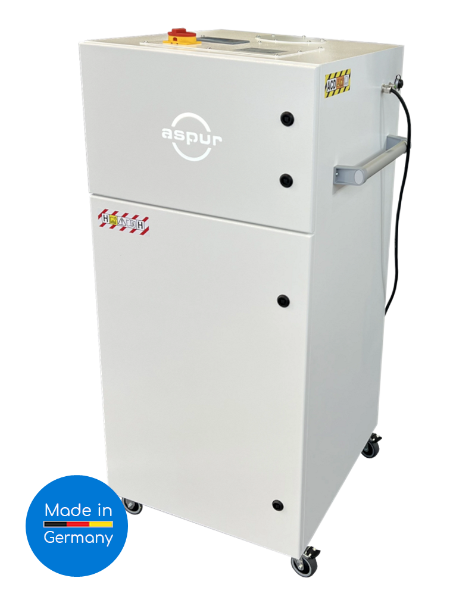 FOR APPLICATION IN LASER CUTTING, WELDING, SOLDERING, DRILLING, MILLING, FILLING, VAPORIZING AND BONDING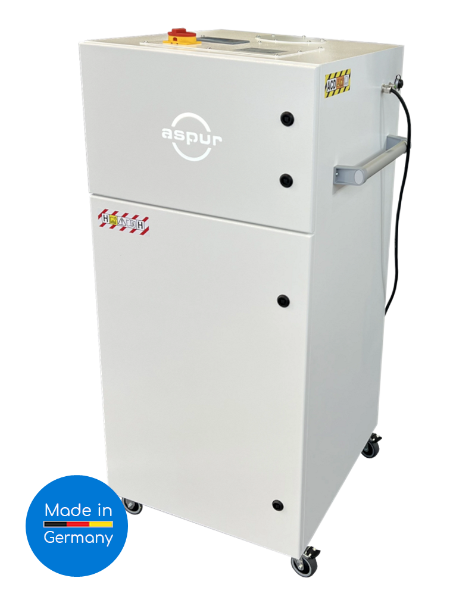 DESIGNED TO EXTRACT FUMES, SMOKES, GASES AND DUSTS AS WELL AS AEROSOLS AND OIL MISTS (FD)
ASPUR airsorb2, airsorb2fd
Storage filter ASPUR airsorb2
Storage filters of the airsorb2 assembly are used in manufacturing plants to extract and safely separate gases*, fumes, odors*, proportional dusts (airsorb2 model) at processing machines. In addition, these units can also be used to extract aerosols and oil mists (airsorb2fd model). Due to the large dimensioned filter systems, long filter service lives result.
*) only with activated carbon filter
The puristic and modern design of the ASPUR devices is also reflected in this device group. During development, care has been taken to ensure that access to all areas is as extensive as possible. All filters can therefore be replaced within a very short time. G4 coarse filters in a plastic frame and retaining plate and aluminum mesh filters are coarse pre-separators and spark arrestors, respectively. Both filters can be easily removed and reinserted.
The main filter system consists of an F9 filter (airsorb2 model) or fogdrain filter (airsorb2fd model) and H14 filter or H14 filter with integrated coalescence filter and can be pulled out very easily from its final position. The drawer system developed for this purpose is protected as a utility model. The filters can be completely extended and removed or replaced from the holder. After insertion of the filter pack, they are automatically brought into the end position and sealed.
Thanks to the modular design, a wide variety of prefilters and main filters such as HEPA filters, activated carbon filters, demister filters, G4 filters, F9 filters, and Fogdrain filters can be used or combined. The intake space below the pre-filters is dimensioned in such a way that a filter bag or a pre-filter box can be inserted as required.








High-quality filter system with pull-out for filter change without tools
Integrated multi-stage filter system G4, aluminum knitted filter, ISO 85 ePM1, filter bag (polyester fleece), HEPA H14 filter
Alternative coalescence filter
Large access doors (service friendly)
EC extraction blowers and fans
Integrated Siemens LOGO control with display and Modbus TCP connection
Powder coating RAL9016 white
Industrial swivel castors with stopper, conductive
Order now our storage filter airsorb2 for your workplace!
Completely available in stainless steel design
All RAL colors in powder coating
Activated carbon filersystem
Order now our storage filter airsorb2 for your workplaces!
Order now our storage filter airsorb2 for your workplaces!
Technical data
airsorb2
(smoke, dusts)
and
airsorb2fd
(aerosols, oil mist)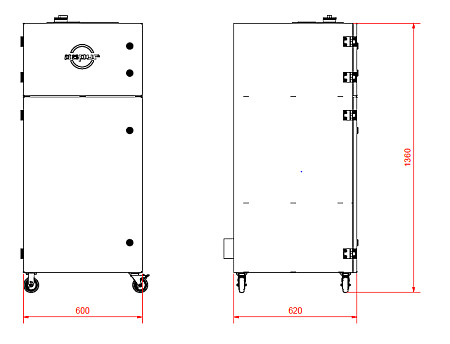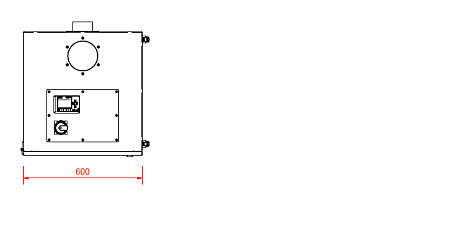 ASPUR-MODULAR-DESIGN

-

Structure in modular assemblies, enables extensive variety of variants

ASPUR-DOOR-SYSTEM

-

Large doors for barrier-free access

ASPUR-NOISE-ELIMINATOR

-

With reduced noise level due to highly efficient sound insulation

ASPUR-EASY-FILTER-CHANGE

-

Simple, tool-free filter change