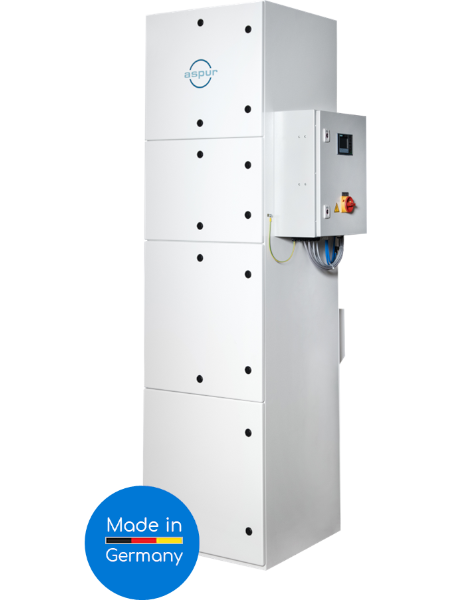 FOR APPLICATION IN LASERING, WELDING, CUTTING, FILLING, MIXING AND PACKAGING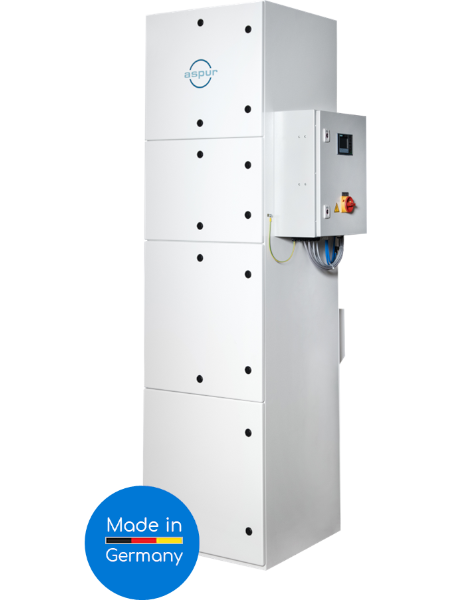 DESIGNED FOR POWERFUL EXTRACTION OF ORGANIC AND INORGANIC PROCESS DUSTS, FUMES AND DRY MEDIA.
High-pressure deduster ASPUR aero2HD
The aero2HD high-pressure deduster safely extracts dust, smoke, chips and gases* from processing machines and processes and collects them either in a container, hobbock, dust bag or endless bag system. The very sturdy housing is made of 3mm steel or stainless steel sheet and can be supplied in almost any RAL color. Standard is powder coating RAL 9016.
*) only with activated carbon filter
The units are equipped with the latest filters, which can be changed without tools. Large access doors installed on both sides, which extend over the entire height and width of the modules, allow the user quick and service-friendly access to all components.
The drive is provided by EC high-performance blowers and side channel blowers with IE3 motors of the latest generation. All variants can be used in multi-shift operation. The required air volume flow can be adjusted manually or optionally automatically by the integrated frequency converter (FU). Due to the high vacuum, these units can be used similar to a stationary industrial vacuum cleaner with very small suction cross sections.
A Rittal control cabinet with Siemens LOGO® modules and display as well as integrated frequency converter from Siemens (or identical in construction) allows manual or automatic adjustment to the desired performance parameters of the unit. This reduces unnecessary wear and tear. The integrated differential pressure sensor enables constant monitoring of the filter conditions. Via the Modbus equipment, all functions of the deduster can also be transferred to a customer's control system and operated from there.
The main filter cartridges are cleaned using the jet filter principle. The aluminum compressed air tank mounted above is automatically regulated by the control system according to time and/or differential pressure. All filters are easy to service and can be replaced without tools. Thanks to the modular design, HEPA filters, activated carbon filters and other filter systems can be added according to the customer's individual requirements and, under certain circumstances, retrofitted at a later date.
The standard unit includes a round, lowerable and extendable collection container made of stainless steel with a push handle and conductive, steerable industrial castors. Optionally, a tinplate disposal container or a bag can be inserted. Alternatively, the unit is also available with a flap and endless bag for dust-free process dust disposal.










High quality filtersystem
Integrated H14 filter (optional)
Simple, fast, tool-free filter change (replacable pre-filter)
Large access doors (service friendly)
Drives: EC high performance blower with side channel blower
Control cabinet with frequency converter and display (user-friendly)
Incl. Modbus TCP control and 24V potential-free contact
Order now our dust extractor aero2eco for your workplace!
UL, CCC, GMP-compliant design
All RAL colors in powder coating
Activated carbon filter system
Fire protection equipment
Explosion protection equipment
Precoating system for sticky process dust
Order now our dust extractor aero2eco for your workplace!
Lasering, welding, cutting
Order now our dust extractor aero2eco for your workplace!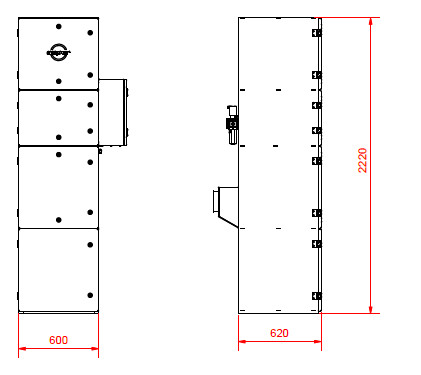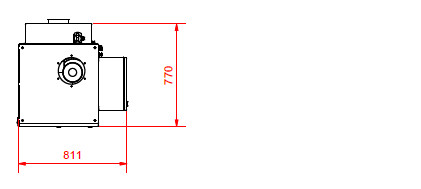 ASPUR-NOISE-ELIMINATOR -

With reduced noise level due to highly efficient sound insulation

ASPUR-EASY-FILTERCHANGE

- Simple, tool-free filter change

ASPUR-Expansion-Extraction-System

-

Baffle plate, deflection and abrupt expansion of the intake process air, reduces the filter load and enables coarse particle separation