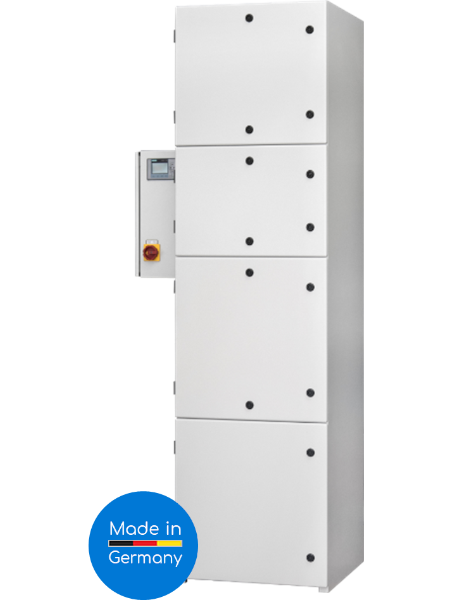 FOR APPLICATION IN LASER CUTTING, WELDING, CUTTING, FILLING AND MIXING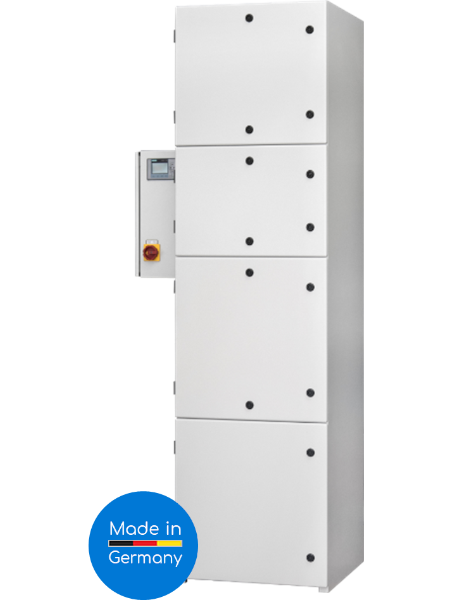 DESIGNED FOR EXTRACTION OF ORGANIC AND INORGANIC PROCESS DUSTS, FUMES AND DRY MEDIA.
Deduster ASPUR aero2GD gas-tight
Modern, high-quality, compact deduster in gas-tight design, with the typical ASPUR design. Smooth surfaces, few protrusions and attachments ensure a "clean" appearance.
Extraction units in gas-tight design are connected to machines via gas-tight piping systems, filled with gas and operated in recirculation mode. All components are equipped with special seals. After assembly, the unit is pressurized and tested for gas leaks.
The unit is driven by EC high-performance blowers. All variants can be used in multi-shift operation. The required air flow rate is continuously adjustable from 0-100% on the display.
A Rittal control cabinet with Siemens LOGO® modules and display allows manual or automatic adjustment to the desired performance parameters of the unit. This reduces unnecessary wear and tear. The integrated differential pressure sensor enables constant monitoring of the filter conditions. Via the Modbus equipment, all functions of the deduster can also be transferred to a customer's control system and operated from there.
The unit is equipped with an integrated H14 filter, which ensures a particle separation of over 99.995%. The integrated star filter is equipped with an integrated electrical filter cleaning system. Due to this design, the units are suitable for extracting even small amounts of process dust. Due to the modular design, additional filter systems can be added on customer request and, under certain circumstances, upgraded at a later date.
The unit has a gas-tight discharge flap and endless bag system with dust-free disposal option. After opening the flap, the process material enters the sealed dust bag. This is double-sealed and cut off in the middle before disposal. By retracting the bag, it is available for further filling.






High-quality star filter system with electrical filter cleaning
Large access doors (service friendly)
Control cabinet with frequency converter and display (user-friendly)
Incl. Modbus TCP control and 24V potential-free contact
Sound insulation of the housing for quiet operation
Order now our deduster gas-tight aero2gd for your workplace
Lasering, welding, cutting
Order now our deduster gas-tigth aero2gd for your workbench!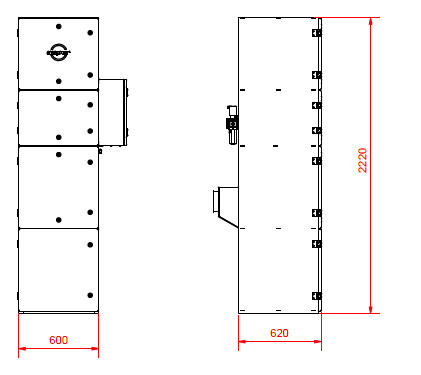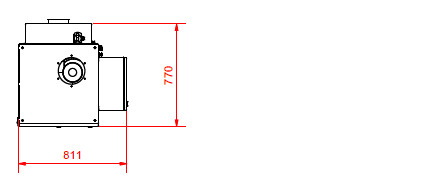 ASPUR-NOISE-ELIMINATOR -

With reduced noise level due to highly efficient sound insulation

ASPUR-EASY-FILTERCHANGE

- Simple, tool-free filter change

ASPUR-Expansion-Extraction-System

-

Baffle plate, deflection and abrupt expansion of the intake process air, reduces the filter load and enables coarse particle separation