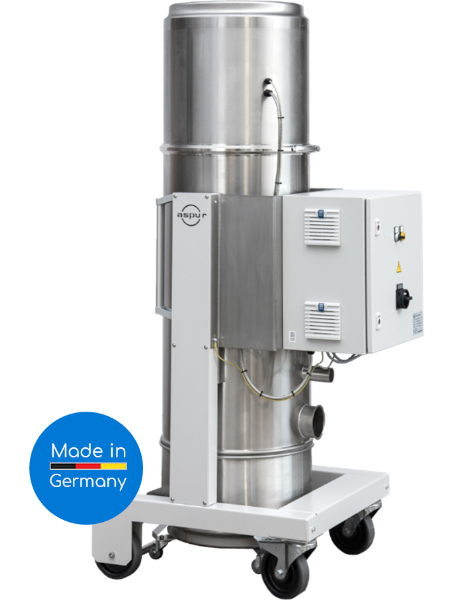 FOR APPLICATION IN FILLING, MIXING AND PACKAGING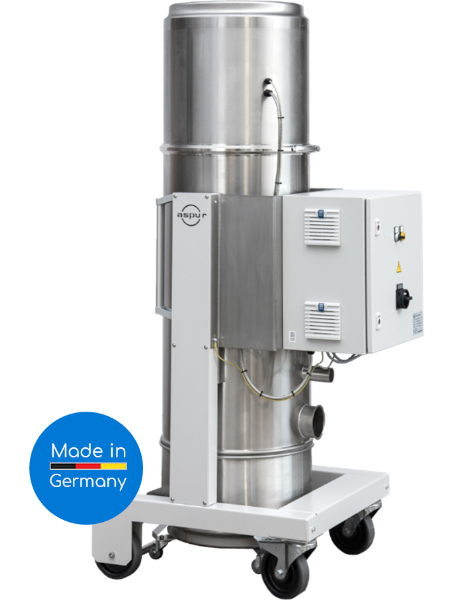 DESIGNED FOR ORGANIC AND INORGANIC PROCESS DUST, LASER DUST, WELDING SMOKE AND DRY MEDIA.
Mobile deduster ASPUR ame2
The chassis of the deduster made of 3mm steel plate is very stable and offers a comfortable and high quality unit with the stainless steel round tanks.
The mobile deduster has an EC high-performance blower which can be continuously adjusted from 0-100%. These motors can be used in continuous operation. The sound insulation hood protects the blower from external influences, is easy to clean and reduces noise emissions.
The intake velocity is slowed down considerably in the expansion area, where the dust enters the filter container. The dust can thus enter the collection container at a slower rate. At the same time, the filter unit is protected by the expansion.
A collection container equipped with 5 swivel castors can be easily lowered and extended by means of a hand lever. A PE-bag is inserted in the container, where the dust is collected and can be easily removed and disposed. This low-dust disposal option reduces dust emissions during disposal and protects the operator.
High-quality wheels and swivel casters with stoppers provide very good driving comfort of the unit. Large push handles allow easy maneuvering.
The cartridge filter category "M", with integrated electric unbalance motor for cleaning, safely filters out fine dust and coarse particles. After the fan is switched off, the shaker is started manually or automatically and causes the cartridge filter to vibrate so that adhering fine dust falls into the collection container.







Container stainless steel
Chassis powder coated RAL 9016 matt
Dust collection tank 50l is lowerable and extendable
Industrial castors with stopper and wheels D160, conductive
High-quality star filter "M" with electrical filter cleaning
EC blower suitable for use in continuous operation
Enclosed motor with sound insulation
Control cabinet or Harting controller
Order now our mobile deduster ame2 for your workplaces!
Completely in stainless steel design
All RAL colors in powder coating
Activated carbon filtersystem
Precoating system for sticky process dust
Siemens LOGO control unit with display and Modbus
Order now our mobile deduster ame2 for your workplaces!
Bestellen Sie jetzt unseren Mobilen Entstauber ame2 für ihren Arbeitsplatz!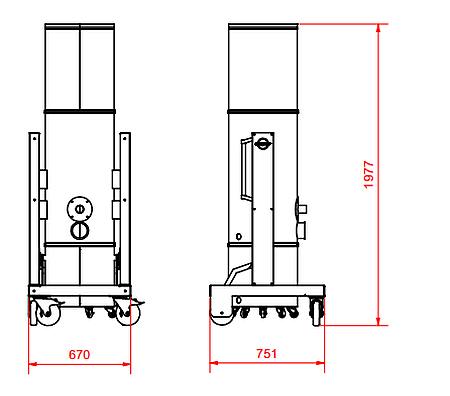 Stable chassis with electrically conductive industrial wheels

Drive unit encapsulated, sound-proofed

Bag filter cat. "M" BIA, with electrical filter cleaning system

Collection tank stainless steel, lowerable and extendable with bottom-rounded PE-bag