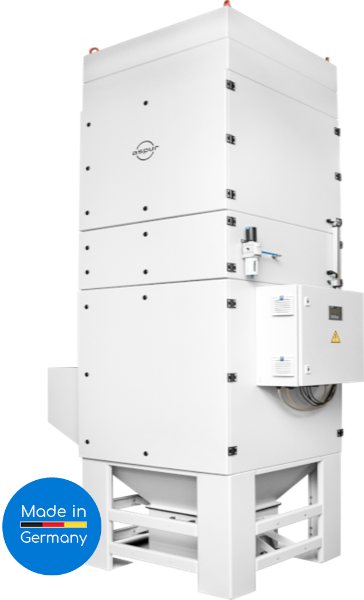 DESIGNED FOR EXTRACTION OF ORGANIC AND INORGANIC PROCESS DUSTS, FUMES AND DRY MEDIA.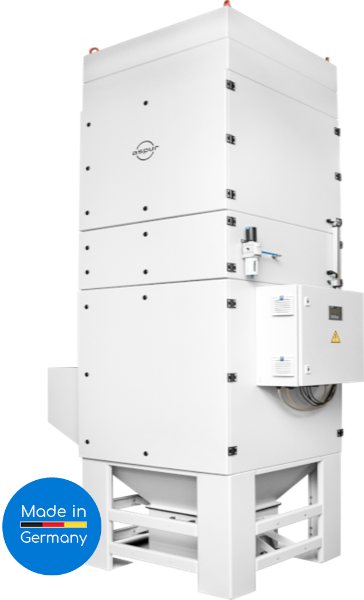 FOR APPLICATION IN LASER CUTTING, WELDING, CUTTING, FILLING AND PACKAGING
The aero5eco dust extractor is the
most powerful model
in the aero series and is used in the manufacturing industry to extract and safely separate dust, chips, smoke, fibers and gases*.
* only with activated carbon filter
In terms of filtering and safety, the systems are designed in such a way that they can be used indoors and in areas where there is a risk of explosion.
Industrial centrifugal fans with backward curved impellers and Siemens IE3 motors of the latest generation provide both a low-noise and reliable drive. Together with the installed frequency converter, the motors can be variably adjusted to the desired outputs, either manually or automatically. These features ensure that only the power actually required is called up, thus reducing power consumption and loss of materials.
Large access doors installed on both sides, which extend over the entire height and width of the modules, allow the user quick and service-friendly access to all components.
In addition, all filter systems are designed to be changed without tools.
The intake system with baffle plate, deflection and expansion area reduces the filter load and protects it from incoming particles.
Thanks to the modular design, HEPA filters, activated carbon filters and other filter systems can be changed or added according to the customer's individual wishes and, under certain circumstances, upgraded at a later date.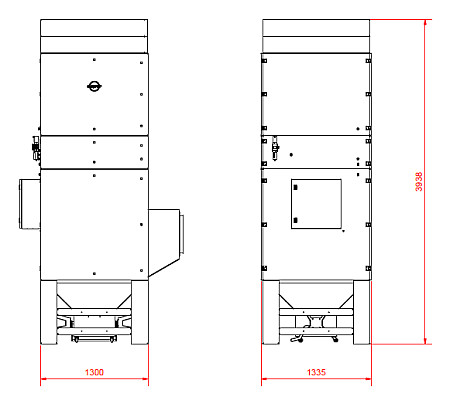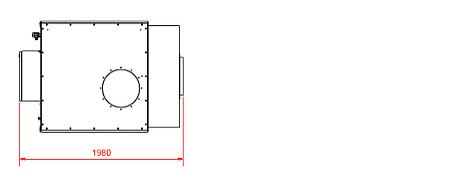 ASPUR-MODULA

R-

DESIGN

-

Structure in modular assemblies, enables extensive variety

ASPUR-DUAL-DOOR-System

-

Accessible from two sides via large doors

ASPUR-NOISE-ELIMINATOR

-

With reduced noise level due to highly efficient sound insulation

ASPUR-EASY-FILTERCHANGE

- Simple, tool-free filter change

ASPUR-Expansion-Extraction-System

-

Baffle plate, deflection and abrupt expansion of the intake process air, reduces the filter load and enables coarse particle separation